Stir Fry Chicken with Broccoli and Peppers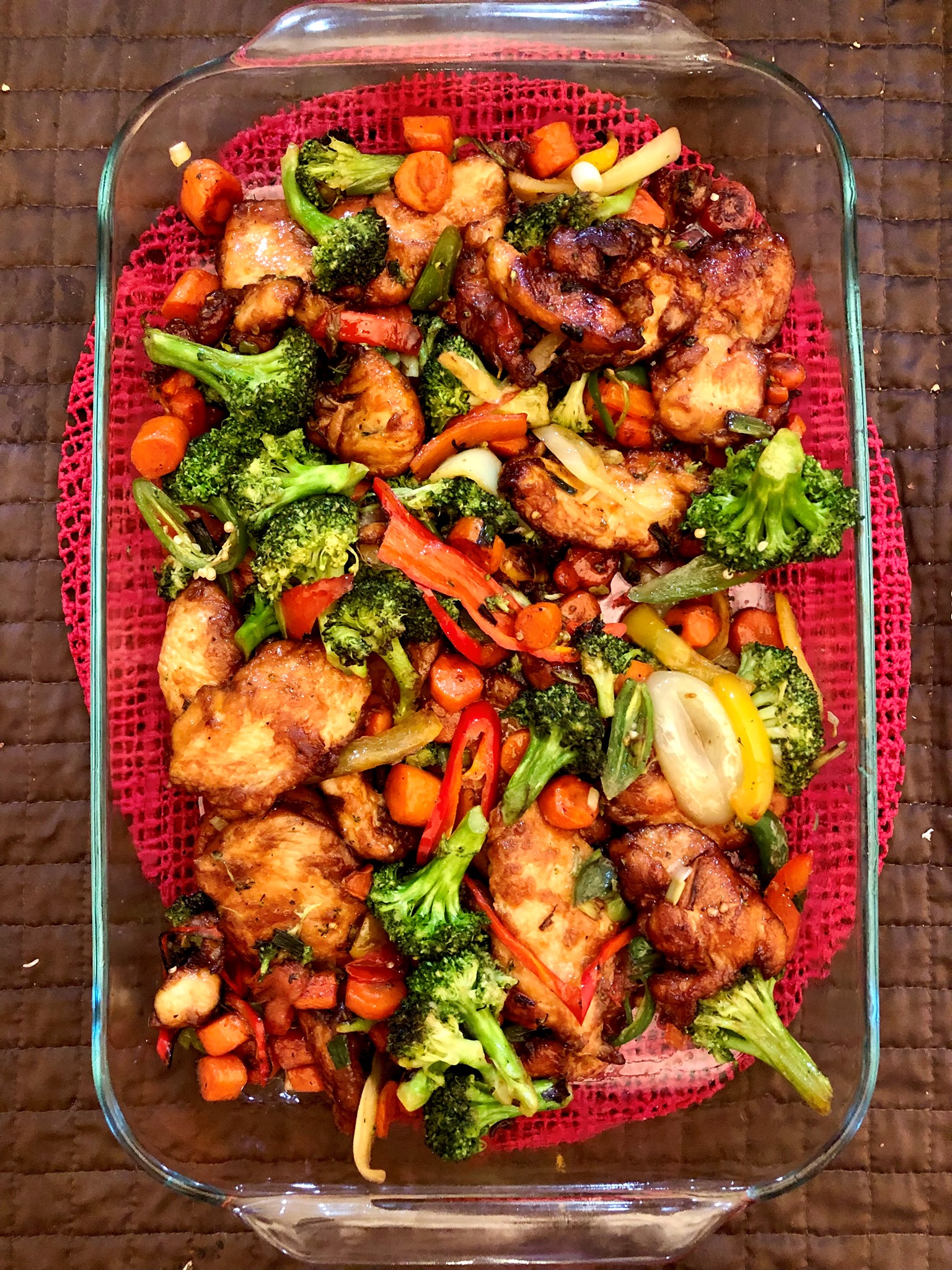 Chicken stir-fried with broccoli and peppers
Takes 20-30 minutes to cook (after 40 mins marinating chicken)
Ingredients
2 lbs. chicken breast (slivered)
1 tsp Salt (or as desired)
1 tsp Sugar (brown preferred)
Broccoli florets, separated
4 or 5 carrots, diced or sliced or julienned
3 tbs Olive oil
2-3 red fresno peppers, julienned, for less spicy remove seeds
3 serrano peppers, julienned, for less spicy remove seeds
2 amarillo peppers, julienned (optional for variety)
1 bell pepper, julienned (optional for sweetness)
6 small scallions (spring onions), chopped (or regular onion if you like)
a tomato or two (optional) seeds removed
1-3 tbs Potato starch or corn starch
2 tbs Chinese cooking wine (Shaoxing is best but any cooking wine will do.)
2 tbs Soy Sauce (dark Tamari preferred)
2 tbs Sesame Oil
4 tbs Canola Oil
2 cups rice
Instructions
Season the sliced chicken with salt and a little sugar, let sit in fridge for 20 minutes or more while you prep veggies.
Drizzle a little olive oil and salt on carrots and broccoli.
Make a slurry of starch and wine, pour over chicken, add soy sauce and a little sesame oil to chicken, mix well and marinate for 20 minutes or more while cooking rice.
Allow chicken and other ingredients to come to room temperature.
Heat a wok or large frying pan on high
Add a few tbs canola oil and heat until it just starts to smoke! Pan should be 375F or, preferably, hotter.
Fry chicken 90-120 seconds each side, adding a few more drizzles of sesame oil, wine and soy sauce to side of pan as desired, until golden and set aside. If your pan isn't hot enough, cook chicken longer, thoroughly of course! Beware of hot oil spatter.
Stir fry the carrots and broccoli for 3-4 minutes until they start to brown, then a few minutes covered until soft. Set aside when done.
Stir fry remaining vegetables/peppers a minute or two. Beware pepper fumes, this is best done outdoors.
Add already-cooked chicken and vegetables to pan and stir fry for another minute or two.
Serve over rice.