Recipe for Costco Chicken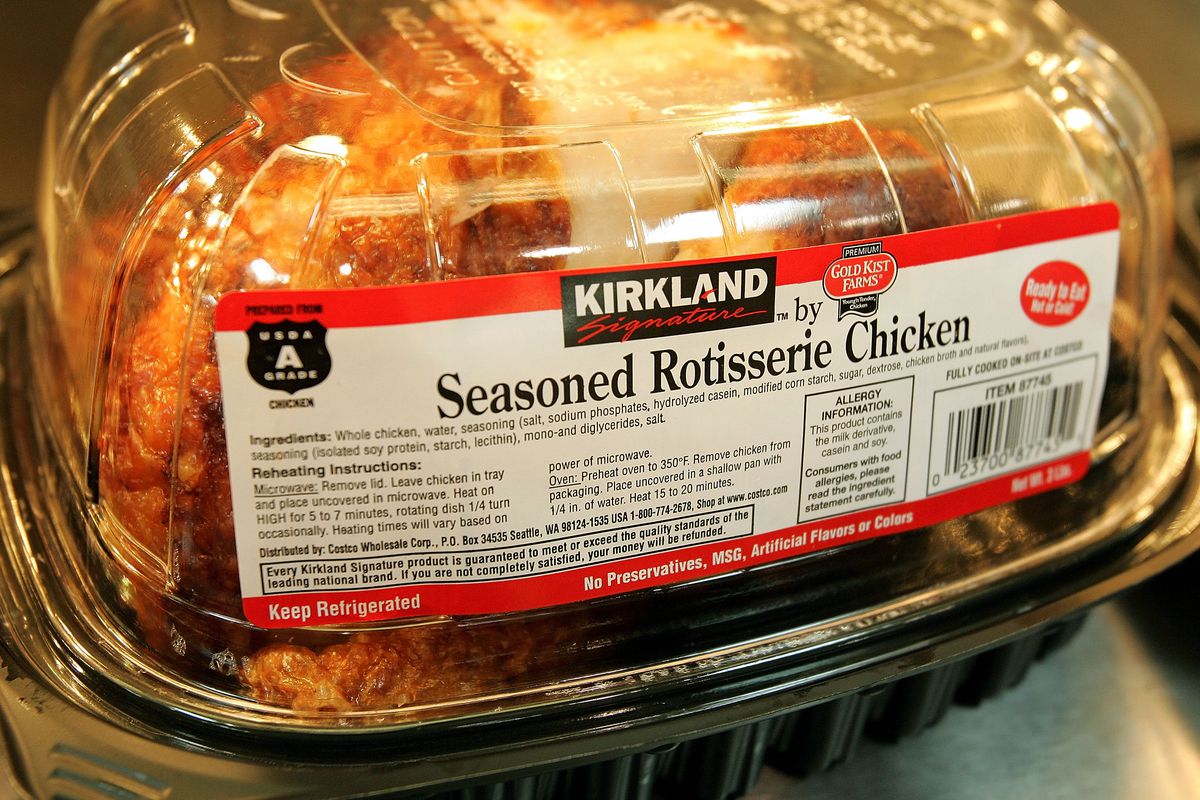 What do I do with a Costco Chicken? Here's a recipe that uses rotisserie chicken as the base.
Every day, Costco sells millions of rotisserie chickens for $4.99 each, losing money on every one. They're delicious if you eat them soon after you get home, while they're still hot from the oven. They lose considerable appeal after they've cooled off. The fat congeals, the skin becomes rubbery, and slices are bland and unappealing after just a few hours. Sandwiches, salads and soup are all good ways to use up the chicken after the first day.
Chicken Dinner
If you buy a Costco chicken in the morning or afternoon, you'll need to get creative to serve it for dinner in the evening. You could reheat the whole chicken and serve it as is, but that's a little unexciting. Here's an easy way to liven it up considerably with minimal effort. The key is a lovely red hot sauce called El Pato.
Spicy Costco Chicken El Pato
Preparing the chicken takes about 20 minutes, and may be done a few hours ahead of time. Cooking can take less than 30 minutes, while rice is cooking. Longer cooking time (90-120 minutes) will improve the flavor by reducing the sauce.
Ingredients
1 Kirkland Seasoned Rotisserie Chicken
1 tsp kosher salt
1 tsp ground black pepper
3 Tbsp lime juice, fresh preferred
2 Serrano Peppers or Jalapenos to taste (remove seeds to reduce spiciness.)

16 oz El Pato Hot Tomato Sauce (I suppose you can substitute the hot sauce of your choice.)

3 Tbsp cooking wine (optional)
2 Tbsp olive oil
3 small scallions (spring onions) or 1/4 yellow/white onion, chopped
1 Bell Pepper
1 large clove garlic, finely chopped
3 cups white rice
Cilantro for garnish
Marinate the chicken
Remove skin, fat and bones from the chicken, and cut large pieces of meat into smaller pieces.
Season chicken with kosher salt and pepper to taste. Remember, the chicken has already been "seasoned" but not really sufficiently.
Pour lime juice over chicken.
Slice serrano or jalapeno peppers (to taste) and mix into chicken.
Pour hot sauce over chicken (more to taste) and mix well.
Add wine if desired.
Marinate for at least 20 minutes. 1-2 hours preferred.
Start the rice
I assume you'll be cooking rice in a rice cooker, Instant Pot or pressure cooker, which will take about 30 minutes.
Fry the onions and garlic
Use more or less onions and garlic to your taste.
Add olive oil to large saucepan and heat to medium-high.
Cook onions for 3-5 minutes until they soften and become transparent.
Add bell peppers to pan and sauté for a minute or two.
Add garlic and cook for 1-3 minutes until it begins to brown.
Add chicken mixture to saucepan and mix thoroughly.
Simmer for 15-20 minutes until thoroughly hot, stirring gently occasionally. Avoid shredding the chicken. You can cook longer if desired and it will get better as the sauce is reduced. 60-90 minutes is a good cooking time.
Serve over rice. Tortillas optional. Garnish with chopped scallions and cilantro.